MyOdoo Intervention, the mobile application for field services
Problems encountered
Many contractors find it difficult to keep track of the work done on job sites by their crews, waste valuable time having to re-encode the hours worked and tasks completed by their workers, and have difficulty keeping track of invoicing on a job-byjob basis.
In addition, it is often difficult for a contractor to know the profitability of his worksites. Indeed, what are the goods used by the teams? How much time did they spend on an intervention or task? Was the equipment used the same as originally planned? 
The constraints encountered by a contractor are therefore numerous 
Data processing : each paper intervention sheet must be encoded internally, which represents a significant administrative burden without which the contractor cannot invoice his clients! This encoding time therefore has a direct impact on day-to-day business.

Geolocalisation and tour management : a contractor can't know in real time where his crews are. In the context of an unplanned intervention to be carried out in an emergency, it is therefore difficult to be able to send the team available and geographically close.

Weak customer care : the delay between the realization of the service and the encoding can take several days or even weeks, which does not guarantee an optimal customer follow-up.

Lack of evidence : the work, once done, must in some cases be proven to the client..

Impact on the stocks : the follow-up of the stock is rather complicated because it is not possible to know in real time the stock available in a van.
Solution
Thanks to our software and mobile application, no more illegible paperwork completed by your teams in the field that you then have to re-encode in your billing tool.
Indeed, by using MyOdoo Intervention, your technicians, agents and mobile staff have an intervention schedule and a list of tasks to perform.
In the morning, the technician knows how to organize his day and can go from customer to customer. Once the intervention is completed, the task is directly closed and entered by the worker.
By coupling the "intervention management" application to other modules such as "timesheets" or "activities", you can also track the time spent by your teams on tasks and thus calculate their profitability.
To be totally complete and integrated, you can add the modules "stock management" to track the possible articles used at the customer's premises (example: a plumber who places a new tap) and "CRM" to, for example, encode an additional sale detected during a visit to the customer.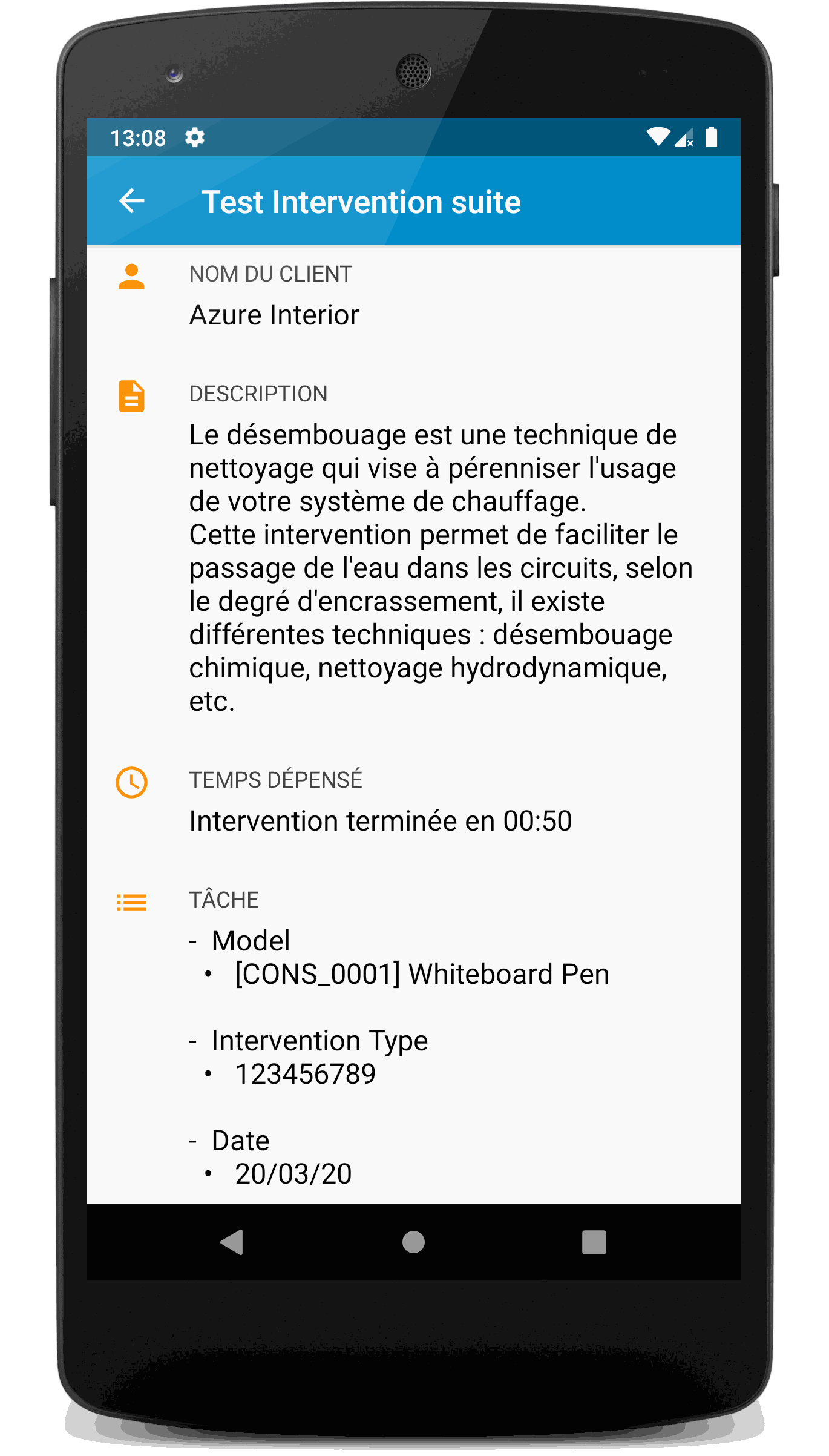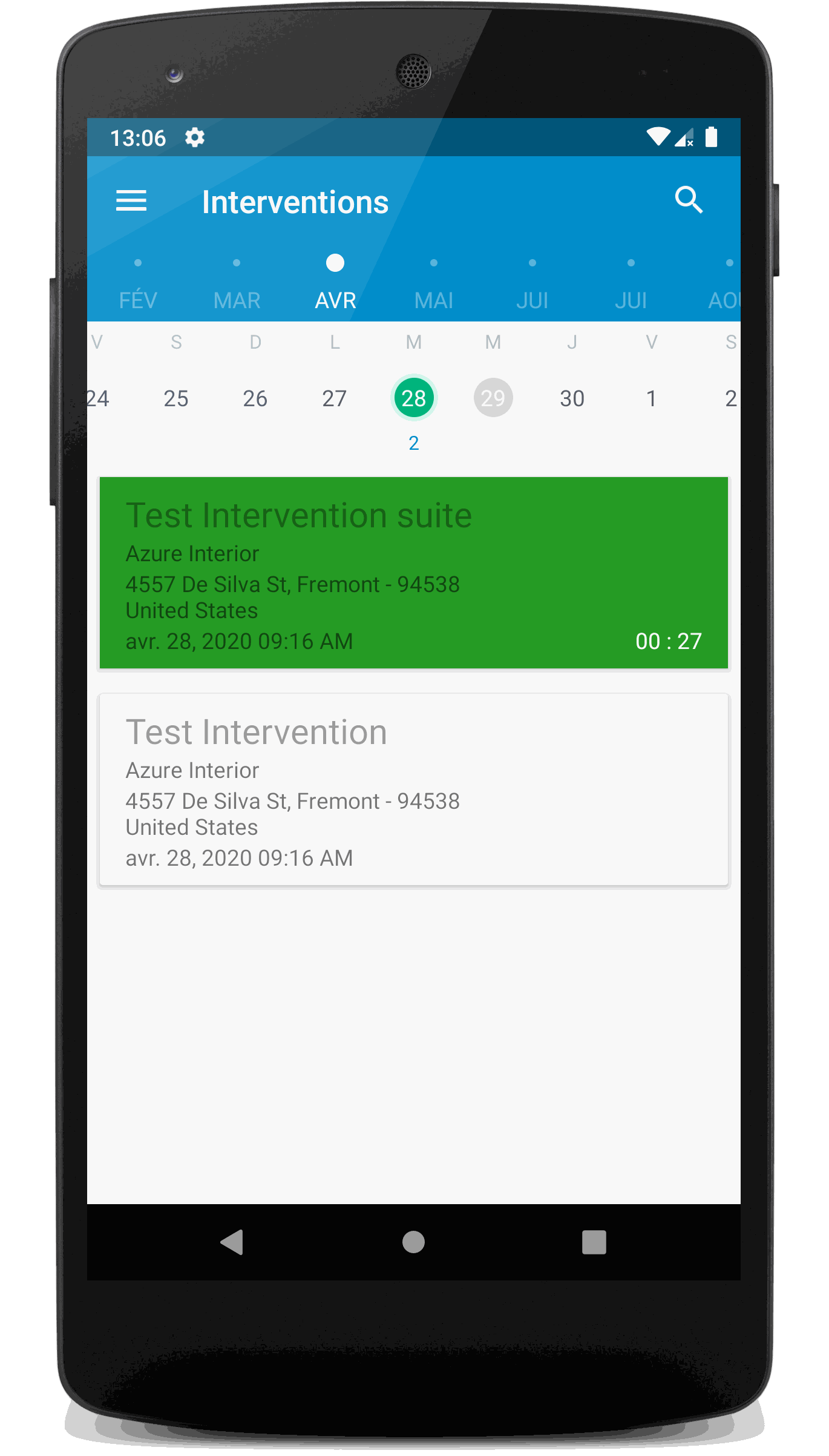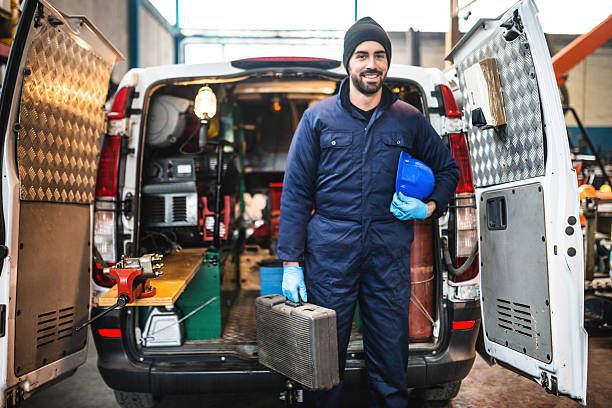 Customer Case


We had the opportunity to set up MyOdoo Intervention in many companies, including a plumber in Paris. GCE has 10 plumbers on the road and is experiencing problems with route management, inventory and planning.
The daily encoding of interventions represents +/- 2 to 3 hours per day. The goods used on a daily basis are not or little known and it is common for a plumber on the road to run out of materials.
After analysis, we opted for the implementation of MyOdoo Intervention in order to set up :
Mobile application for workers

Tour management

Planning and tasks allocation

Customer signature to validate the intervention

CRM and quotation

Invoicing

Accounting

Team Geolocalisation

Stock Management
Since the implementation of MyOdoo Intervention, GCE has been able to improve the daily management of its business and increase customer satisfaction.
In addition, reduced encoding time and better stock management have enabled GCE to achieve a significant return on investment.